Fushigi Yuugi - The Story
---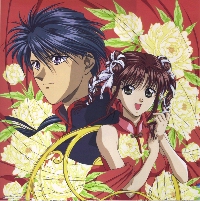 Fushigi Yuugi, "Mysterious Play," is the story of a fifteen year-old girl named Miaka Yuuki, a third year junior high student getting ready for high school examinations. When she and her best friend, Yui Hongo, visit the National Library, they discover an old Chinese book called The Universe of the Four Gods. When they turn the page, they are pulled into the story inside the book. There, they are saved from slavers by a young man with the character of "the ogre" ("oni") on his forehead. Yui mysteriously disappears in a red light and finds herself back in the library.... without Miaka.
And so the story begins of Suzaku no Miko, the girl who appears to open the portals to another world and acquire the divine powers of Suzaku.

The animated series runs 52 episodes long, with one special and a 3-part OAV series. It ran on TV Tokyo from 4/6/95 to 3/28/96, Wednesday nights at 6. The manga is eighteen books long, divided into two parts: 1-13 runs along the same lines as the TV series, and 14- 18 take a separate path (though soon to be released as an OAV series summer of '97).
---
Return to the main page